Here you will find links to our online tests and publications. Follow the link below to test your English language. The tests are ideal for any ESL or EFL student who needs a quick diagnostic and remedial analysis of their level of English. There are three online tests that you may take at the moment. There's one at intermediate level ( approximating to Cambridge FCE), one at advanced level (roughly equivalent to Cambridge CAE) and one at a higher level of proficiency (corresponding roughly to Cambridge CPE).
All three tests are free. When you finish a test we would like to offer you a certificate of achievement to acknowledge your accomplishment. Purchasing a certificate for a few euros, or buying something else at our store, motivates us to continue to providing these tests for free. Scroll down on this page for more information.
Click here to go to the Tests page 

Click here to go to the Publications 
Scroll below for Certificates 


Personalized Certificates of Achievement
Up to 35%  discount for bulk orders
Students
If you are a student who has previously taken one of our online tests, or any test online, or at a school or college within the last four years then follow it up by having a certificate of achievement printed for your use. Read the information below and check out the service. It's a flexible printing on demand service that allows you to specify the level of proficiency in a subject which you are able to demonstrate.
Teachers and Schools
If you have been using our online language level tests and tests in other subjects you will know that we have offered these free of charge and hope that your students have benefited from the remedial assessment that our tests revealed.
We are now able to offer teachers, schools and colleges a certificate and diploma print on demand service that allows you to fully customize and personalize the certificates offered by your institution or organization.
With the certificate printing service you can print one certificate at a time, or in higher volumes that you may subsequently complete at your institution.

Certificate of Achievement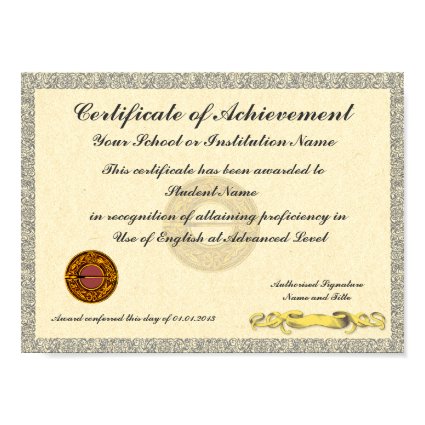 Click on the image to go to the main page where you may customize the certificate before placing your order.  You may also place your order at any of the Zazzle International Stores - just follow one of the links below :
Read the notes below that describe the various customization options available.

The Certificate Of Achievement is printed on high quality ultra heavy weight (120#) card stock with several finishes available - satin, matte or watercolor card. There are also options for framing. The Certificate shown on the order page is initially set at 15 ins x 11 ins ( 38cm x 28cm) but you may adjust the final size - it may be printed larger, or smaller ( for example, as A4 for laser printing of information from a database )
The certificate is of a professional quality with script fonts, border and artwork. In this Certificate of Achievement the certificate title and some elements are locked. If you need to specify the subject in which the certificate was awarded please refer to the next example, The Certificate in a Curriculum Subject. The Certificate of Achievement does allow extensive personalization in printing, with these features :

Your choice of different fonts, sizes and font colors
Name of your school, college, university, training institution or department, or organization
Student's name, or leave blank for completion if a discounted bulk purchase is made for issue to students on an 'as required' basis on graduation or course completion
Your words describing the competence, achievement or proficiency achieved by students
Your words describing the course of study completed, program, skill or knowledge in which competence was tested and demonstrated in an examination
Date on which the award was conferred and the text you can use to express it, with any other information
Name or signature of the signatory, and his or her title (scanned signatures may be uploaded and placed on the certificate stationery)
Placeholder for your institution's crest, logo or seal, if required; just remove the existing seal and add your own electronically scanned and scaled, or on receipt of your certificates.
Our custom certificate printing service Ideal for students, schools, colleges and requiring certificated acknowledgment of skills, knowledge and learning acquired. With discount for bulk orders smaller institutions may recover the cost of certificate printing through sales to their students.  

Please note that the responsibility for authenticity of claims made on any certificate lies with the student or school issuing the certificate. Additional material, such as results transcripts, may be required to confirm the competence and proficiency claimed by the certificate holder after its issue, as we cannot verify the veracity of certificate claims. In placing any certificate order you absolve us of any liability connected with interpretation of the certificate holder's abilities.

Certificate of Achievement for School or College Award

Certificate in a Curriculum Subject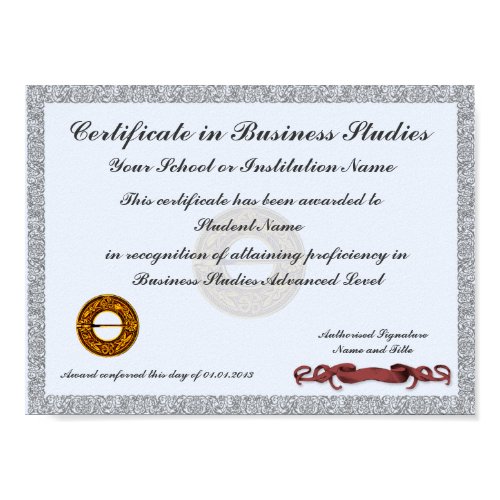 Click on the image to go to the page where you may customize the certificate before placing your order.
This certificate has all the benefits of the Certificate of Achievement and more. With this certificate you may change the certificate title to the curriculum your institution offers, for example, Certificate in Business Studies, Certificate in Information Technology, or Certificate in  Marketing.
You may also place your order at any of the Zazzle International Stores for this certificate - just follow one of the links below :
Large Discounts for Bulk Purchases 
2 - 11 certificates  5% off 
12 - 49 certificates 10% off 
50 - 99 certificates 20% off 
100 - 249 certificates 30% off 
250+ certificates 35% off

You don't have to buy multiples of the same certificate to receive a quantity discount. You'll receive a quantity discount on any order of 2 or more certificates !      

Even if you are not interested in purchasing a certificate we would like you browse our online store at Zazzle for other gifts that you may like, The store has many themes to choose from and all occasions and we are sure you will find a gift for yourself or a loved one. Click on this link to visit our store on Zazzle


Here you will find four Wordskills publications that we previously offered for sale on our main site. 
Aesop's Fables - Grammar Practice
First Certificate Traveller
301 Phrasal Verbs
Negotiation Skills for Students of English
We've moved them to here and re-organised them a bit.  They cover a range of themes that will help you improve your English. Even though they have been on sale for many years the content is still highly relevant to language development even if the context may be dated (the links to the Wordskills Webstore are out of date and the format of the FCE examination changed in 2008). To compensate for this we have decided to offer these epublications at reduced prices. Prices are shown in Euro ( 1 EURO approximately USD $1.35, or approximately UK GBP £0.85 at time of writing. )
Electronic Downloads
All publications are electronic downloads in PDF format. You may download the sample pages from each publication and inspect them to see if they suit your needs. If you think they are good value for the price then press the Buy button. You may pay with Paypal or by Credit Card.  You don't need to have a paypal account to pay by credit card; Paypal is used as the method we use to charge your card. All transactions are secure and take place on the payment processing secure servers.