View And Buy Unique Wrapped Canvases
Turn Memories into Masterpieces
Your most memorable photos will look great as a wrapped canvas print. With Zazzle's easy-to-use design tool you can instantly turn your photo into a beautifully wrapped canvas print perfect for any home or office.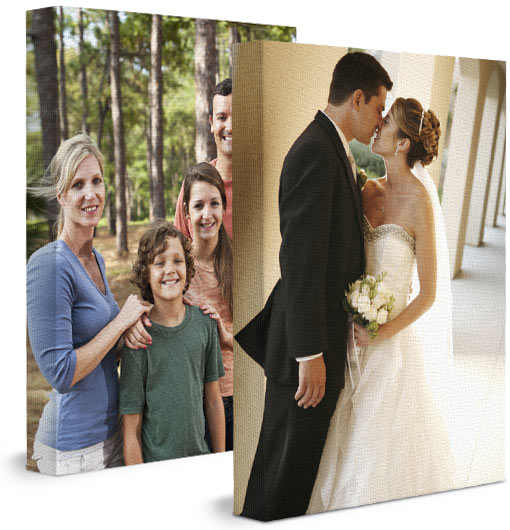 100+ Year Archival Canvas
Zazzle's matte canvas is made from a tight weave, acid-free cotton-poly blend canvas ideal for photography or art. Printed with a special ink-receptive coating, your wrapped canvas print will be fade-resistant for 100+ years. 
Three Frame Options
Choose from wrapped canvas in 0.75", 1.5", and 2.5" frame widths to perfectly fit any room in your home or office. 
Diptychs, Triptychs and Mullion Compensation
When creating a Wrapped Canvas, there is an option to split the artwork into two or more panels to create a striking, multi-canvas wall mounted display. These are typically called diptychs (two panels) and triptychs (three panels). Since these contain multiple panels with gaps in between, you can enable Mullion Compensation for the image. 
What's Mulllion Compensation? This determines how each panel is printed to make the final image. With Mullion Compensation off the full image is printed so that if you were to put all the panels together, you would see the complete picture.  With Mullion Compensation on then the parts of the image that are in the gaps between the panels are removed so that the picture retains the proper proportions and flow between each panel. If you are unsure whether or not to enable Mullion Compensation, give it a try! If you don't like what you see, you can simply turn it back off.
Browse and Shop For More Prints on Canvas